A local newspaper publisher doesn't feel small with a programmatic advertising partner. Some national publisher brands built their own programmatic ad exchanges. And they're proven to work. But local can also enjoy the revenue benefits of ad campaign optimization. In some ways, programmatic is ideally suited for the local market.
Ad sales is arguably one of the most difficult jobs in publishing today. Decades ago, the captive audience of print combined with the exclusive nature of a local publisher meant advertisers could count on ad impressions. The ad-blocking culture didn't exist, not that it would have worked for print. And circulation numbers factored heavily into predicted results.
But publishing has changed, and that's more than an understatement. Digital publishers are up against myriad obstacles. Continual tech advances require adaptation or promise obsolescence. Advertising results are more and more difficult to pin down. And advertisers, especially local businesses with a smaller budget, want to know their ad buy is well placed.
Programmatic advertising is the big game changer. It leverages data to predict performance, places ads accordingly and can back up everything that it claims to do. It brings local and major national advertisers within reach of the local newspaper publisher, and it's easier to manage than picking up the phone or sending an email to network with advertisers that keep publishers in business.
The Local Newspaper Publisher Thrives with Programmatic
Local newspapers have struggled for revenue right along with the big names in publishing. These days, no one is safe to assume that ads or performance will be there. That's at the heart of programmatic's rapid growth.
For local publishers, performance can be more difficult to gauge and prove. Circulation numbers can't compete with national brands, and the ad sales department budget can't, either. With advertisers increasingly skeptical, programmatic has become a balm for the publisher's soul because it makes information accessible.
Peter Krasilovsky, VP and Chief Analyst for BIA/Kelsey local marketing and advertising consultants, says programmatic has "clear implications" for the local market. In a 2015 Insight Paper, Krasilovsky explained:
"For starters, programmatic's combination of sophisticated data analytics and automation allows marketers to efficiently discover and buy locally targeted impressions at scale. It also reduces much of local advertising's buy/sell friction by adding transparency, discoverability and transactability. In short, programmatic trading exchanges will add value to advertising buyers and sellers as the inventory becomes more liquid and the process grows more intelligent and automated."
Further, programmatic doesn't appear to negatively impact ad sales jobs. Krasilovsky thinks the opposite is true. With stronger revenue, local newspaper publishers can reinvest back into advertising, making it stronger and increasingly effective. Programmatic might very well be the key to advertising in the digital age.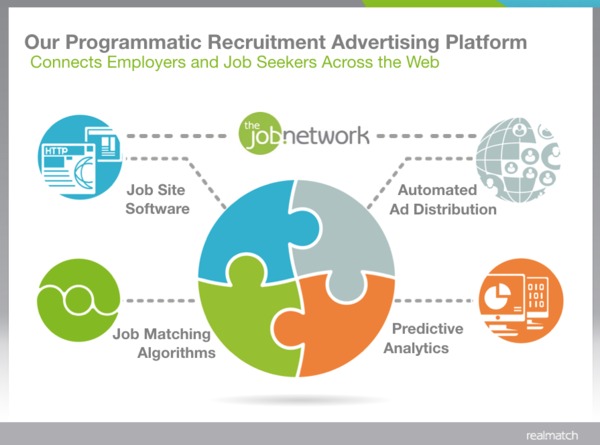 Programmatic Works Particularly Well for Job Boards
It's important to resist any preconceived limitations on programmatic. Certainly, it brings local and national advertisers within reach of the smaller newspaper publisher. But programmatic is also ideally positioned for boosting job board traffic and profitability.
As with nearly everything in publishing, job boards have changed, too. The giants are restructuring. White-Label job boards are emerging as efficient and focused. Local publishers who don't offer a job board are missing out on a major source of ad revenue.
The programmatic difference has many branches, and they work on a central theme: Data is there, and you can use it to improve nearly every aspect of recruitment advertising. There's a reason why RealMatch says within 5 years, the vast majority of all recruitment advertising will be automatic and programmatic: it works for every key player, from the employer to the job candidate to the publisher.
Programmatic advertising lets the local newspaper publisher shine with benefits such as built-in transparency on ad spend and ad performance. That's something no ad department could do without hiring or contracting with a data analyst. For job boards, it lets job ads hit the target audience more predictably.
Predictive analytics is part of the programmatic difference. Unlike ad efforts that hope for the best, it analyzes and uses data that show authentic trends so future efforts have historical evidence to back them up. Tom Siebel, founder of Siebel Systems, says, "Predictive analytics gives decision makers the power to see around corners."
Programmatic advertising has answered the call of large and local newspaper publishers. At the local level, it puts publishers on stronger footing. Local ad buys are more effective and efficient. And the results are not just measurable, but predictable. The more advertisers use the system, the more data it generates and the better it performs.
This technology works for every publisher. At the job board level, programmatic makes the publisher a hub for candidate access. In a fast-changing market, it's access that matters.
To learn more about the RealMatch programmatic difference and how it super-charges local newspaper revenue, check out our webinar:
The Emergence & Impact of Programmatic Advertising on Recruiting