There may be thousands of fantastic candidates out there for a given job or maybe there are only two. It really doesn't matter if there's a feast or famine if you can't find your way to the table.Predictive analytics helps build the roadmap that connects you with the right candidates at the right time.
Predictive analytics helps take the guesswork out of job ad placement and hiring. Instead of trial and error, and then error again, it's a more direct path that saves time and money. The predictive nature means that nothing is ever set in stone, but it's a much better shot at making the most efficient use of your resources. To what end? Consistently improved candidate quality. Here's how:
#1: Refocus Candidate Screening Criteria
The typical applicant tracking system eliminates about 75 percent of candidate applicants based on keyword search. But those elimination criteria are usually all wrong for a real-time bidding campaign.
It's latent data, and there are much better quality indicators that help you find which candidates will perform better and target them where they'll be more likely to see your job ad.
Matching taxonomy to the candidate application opens up real-time scoring of every applicant instead of losing 3/4 of them right off the top. You can parse data that helps predict job performance instead of just connecting the dots between one-dimensional job requirement and candidate skill keywords.
#2: See Around Corners and Stop Guessing
The reason this living data is so important is because it helps you predict the future. At least to a certain degree. It's simple enough to understand that you need candidates with a degree in underwater basketweaving, and then go out in search of them. But predictive analytics tells you which of those candidates is more likely to perform best in the job.
Performance indicators usually have little to do with the classic job requirements that an ATS scans for. And these nuggets of wisdom turn up when candidates are evaluated on numerous, even millions of data point comparisons instead of just a handful.
Patterns emerge where none were visible before, but that's not likely with an ATS or the human eye. And once you know what works best for a particular job, then you can build parameters that focus on similar candidates. The future becomes clearer when you know what worked in the past.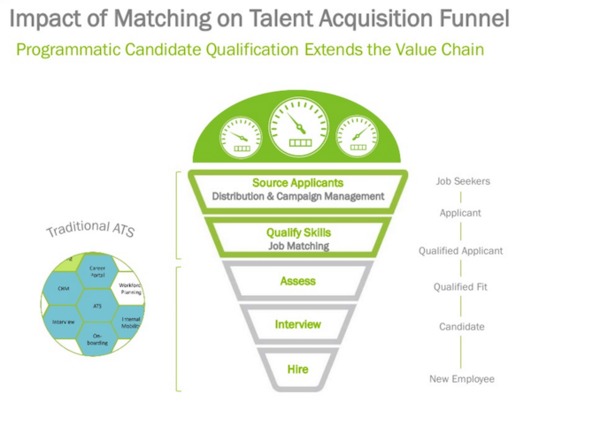 #3: Target the Specific Talent You Need Across Multiple Platforms
The best taxonomy doesn't help if job ads are tossed to the wind. You probably put a lot more effort into it than that, but targeted job ad placement does it automatically, and it does it better.
That's because predictive analytics applies to more than just candidates. It's also important for placing ads where they're most likely to be seen by the right candidates.
In real time, programmatic advertising means your ads are automatically spread across the best possible platforms. You'll have to spend less time devising a strategy and less money on ineffective CPC hits. And the more your campaign matures, the more effective it will be at redirecting spend from sources that don't work and pouring it into sources that work best.
Predictive analytics is the closest thing to a crystal ball for finding and hiring the best possible candidates. Instead of guesswork and lots of legwork, it pulls and implements the most relevant data for candidate qualification and job ad placement, and it does it all automatically. Who wouldn't want to work better with less effort? That's what RealMatch helps you do.