Recruitment is barely recognizable from just five years ago, so where will it be five years from now? Until just a few decades ago, the only way to post a job ad was through a print newspaper, magazine, or by tacking it up on a bulletin board. Then came widespread use of the Internet and the evolution of recruitment multiplied exponentially year after year.
It's a "multi-billion-dollar industry," says Social Talent. That's due in part to the technology revolution that's driving it. It affects both sides of the hiring aisle, both recruiter/employer and candidate. But unlike times past where employers drove the bus, now they more often follow the lead of candidates and active job seekers.
Here are the current marketing trends transforming the face of recruitment.
#1: Employer Brand is a Genuine Thing
Evvery company has a brand, whether or not they embrace the idea. It's the modern twist on reputation. It's what you're known as and known for, and much of that is shaped by others.
Brand management became a thing in the early 21st century, with recruiters and employers scrambling to cultivate just the right persona. But true reputation is built on experiences, not a marketing campaign. That's how Glassdoor became so relevant for job seekers looking for an unbiased opinion about employers and employers who want to understand authentic public opinion about the company.
With unemployment getting better, employers and recruiters alike have begun to understand how important branding really is. It's no longer just a competitive market among job seekers. Now employers need a great brand reputation to prove their worth, too.
#2: Candidate Experience is Vital
The nay-sayers complain that job seekers have too much control in the recruitment and hiring process these days. But the core issue isn't that candidates have booted employers out of their executive chair. It's that candidates aren't desperate. So to find them, you have to be creative.
Candidate experience can make or break a recruiter or employer's chance of attracting a great team. For example, if they're bombarded with irrelevant job offers or annoying emails, they'll likely tune you out. But if they're engaged, they're more likely to pay attention. Just like advertising a product.
It's more of a customer situation. Businesses know that they can't expect customers to flock to them without good reason. And they know that the same applies to candidates, especially those who are top in their respective fields. Optimizing the candidate experience benefits you and them.
#3: Analytics Makes Sense of Available Data
Data, data, everywhere but who knows what to do with it? That was a real problem until recent years, and it's only beginning to improve. Imagine that you've found the world's greatest candidate, but they speak Klingon and your native language is Wookieespeak. All of that data is wasted when it can't be interpreted.
Data can show you how your target candidate market uses the Internet. Where do they hang out and what are their interests? That information can help you engage with them in ways that are meaningful instead of generic.
Data analytics converts the masses of available data into useful insight. It can show you who is open to being recruited, and can even, in some cases, reveal whether they have a history of being tardy for work. It can also show patterns in your hiring process. When do candidates usually opt out? Finding that kind of marker lets you home in and fix what's turning people off.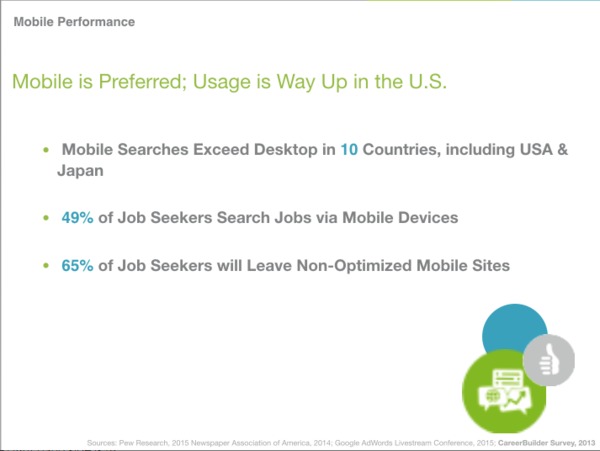 Don't cut your pool of potential candidates in half.
#4: Mobile Forges Ahead
Mobile might be the biggest surprise of all. Just a few years ago, cell phones were certainly popular but they weren't yet practically mandatory for modern life. Now, mobile is as common as carrying a handbag or wallet.
Mobile has made persistent strides that are beginning to outpace desktop and laptop computer use. That means instead of making mobile an option, more companies are moving toward a mobile-first recruiting and hiring strategy.
Mobile first means career sites don't lose any functionality when accessed using a mobile device. Believe it or not, plenty of job seekers will opt out if they can't complete the hiring process, including the application and uploading a resume, using mobile.
It's an exciting time to be in the recruiting business. Although there are new hurdles to jump, they're anything but boring.
It's also an empowering time. Although candidates hold a lot of the cards now, employers and recruiters have new insight that was unheard of a generation ago. It's a give and take that's pulling down barriers and moving ahead into something that's more transparent for everyone.
The technology that you use today is really just the beginning of what's possible in finding and hiring the best talent.