Earlier this week, tronc announced its decision to move its online recruitment business from CareerBuilder to RealMatch's white-label recruitment advertising platform in an effort to grow its recruitment business. All tronc-owned local properties were converted from CareerBuilder co-branded sites to RealMatch's programmatic recruitment advertising platform and the new sites were launched under tronc's local media brands on September 1st.
The switch to RealMatch comes on the heels of tronc's recent rebrand Tribune Publishing to tronc – short for Tribune Online Content. As part of the rebrand initiative, the media giant announced its strategy to evolve and prosper through merging high-value content and the latest technology to deliver a personalized, engaging experience for its audience as well as new advertising opportunities.
That same strategy is even more evident when it comes to expanding the tronc recruitment business. And RealMatch was able to offer the solution tronc was looking for. One of the top drivers that fueled the move for tronc was RealMatch's unique programmatic recruitment advertising technology which leverages big data, targeted job ad distribution across a vast recruitment ad network, and real-time job matching to create a compelling user experience and deliver results for employment advertisers.
So what does this all mean for online recruitment and why is it really a game changer?
The Ability to engage a vast publisher audience in new ways both on and off the job site
tronc alone has a monthly audience of 60 million across its local media portfolio. That's 25% of the adult US population.
In the fragmented space of online recruitment, stand-alone job boards fight desperately to win job seeker traffic. Job aggregators buy and sell traffic to each other in an effort to boost ad performance. But "newspapers" are in a unique position — they already have an engaged audience representing a wide variety of talent in their markets, from part-timers to highly-skilled professionals.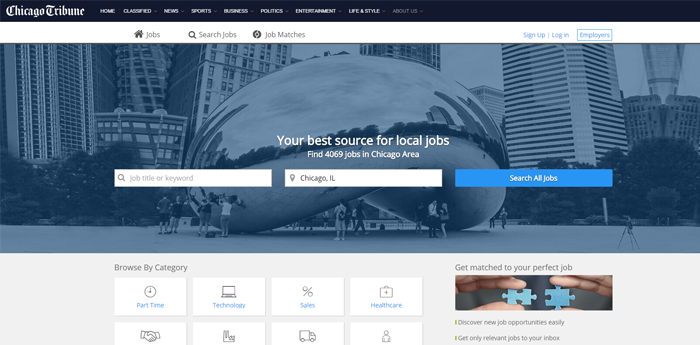 Marry tronc's exclusive publisher audience with RealMatch's programmatic recruitment advertising technology and extended network reach, and you have a game changer. Publishers can offer employers a superior recruitment product that can target and retarget active job seekers on the job board, across a vast network of job sites, via social media, and best of all, directly into highly valued and read editorial content, finally unlocking the true potential of recruitment advertising in these local markets. This translates into recruitment products that offer employers access to more talent than any destination job site out there and allows them to truly capitalize on their vast exclusive local audience.
Programmatic recruitment advertising strengthens local media brands and allows them to become a one-stop shop
tronc's utilization of technology as a differentiator is becoming mainstream in the publishing world. Digital publishers are waking up quickly and inventing new ways to service advertisers in their markets, such as offering performance-based advertising products and agency-like services to grow revenue and strengthen ties with local businesses.
The story on the recruitment side of the house is no different. By adopting RealMatch's programmatic platform, tronc's local properties can fast-forward their recruitment offering using technology, leap frogging competition stuck in old models, and serve employers in ways like never before. Best of all, they get to keep their local brand.
The power of a network lies in numbers – if and only if it is powered by the right technology
National 'destination' job boards are suffering. Monster sold out to a staffing company. CareerBuilder recently announced a move to HR platform and rumored now to be for sale.

Cross-posting solutions helped to solve the reach issue, but without the right technology, they had no way to ensure the distributed job ads were ever seen leaving job sites selling empty claims to their advertisers.
Aggregators started taking the spotlight by claiming to have all jobs, but they still must attract all job seekers, at any given time for their "one site has it all" approach to work.
On the opposite side of the spectrum is the TheJobNetwork which is quickly changing the online recruiting landscape. It is a true talent marketplace that leverages the right technology, performance data, advertising channels, and online audiences in order to connect employers with the right candidates efficiently no matter where they may be lurking across the Web.
And with the launch of tronc's new job sites in key metro markets, TheJobNetwork just got a whole lot bigger and stronger. This rapid growth may just be the tipping point that brings recruitment advertising full swing back to the digital publishers.