PandoLogic note: This year, we've all had to hit the breaks on life and rethink how we approach work. For many employers, this meant losing a lot of resources that they heavily relied on to manage their business. Trish Robb, General Manager for North American Recruitment and Talent Management at HGS, shared how HGS uses programmatic recruitment to help her team pivot their recruitment strategies and budgeting to accommodate this new work world.
This article was originally featured on Rally Recruitment Marketing and authored by Trish Robb.
If you had to pivot your recruitment strategy this year to attract remote workers, but you didn't also shift your job advertising strategy, you might be experiencing too many of the wrong applications and rising recruiting costs. Trish Robb with HGS shares how changing to programmatic job advertising has made a big impact on their ability to recruit faster and to control recruiting costs, during a time when they've needed it most.
Many employers have had to pivot their recruitment strategies this year to accommodate the new world of remote work. Virtual candidate experiences and Zoom interviews are now the norm. But if you didn't shift your job advertising strategy as well, you might be experiencing too many of the wrong applications and rising recruiting costs. Does this sound familiar?
My organization, Hinduja Global Solutions (HGS), made the shift to remote hiring in March, and we quickly learned that attracting remote workers was going to require a digital marketing approach that was highly targeted. With our new talent pool part of the Work Anywhere Workforce, meaning they can be located virtually anywhere in the U.S. and Canada, managing job postings and job boards manually was out of the question. That led us to implement programmatic job advertising, and it's made a big impact on our ability to recruit faster and to control our recruiting costs, during a time when we've needed it most.
We've learned a lot from our switch to creating a programmatic job advertising strategy over the past few months that I think could be helpful to share with the Rally community. Read on to learn how we made the switch and how it has helped us make the most of our recruiting budget this year.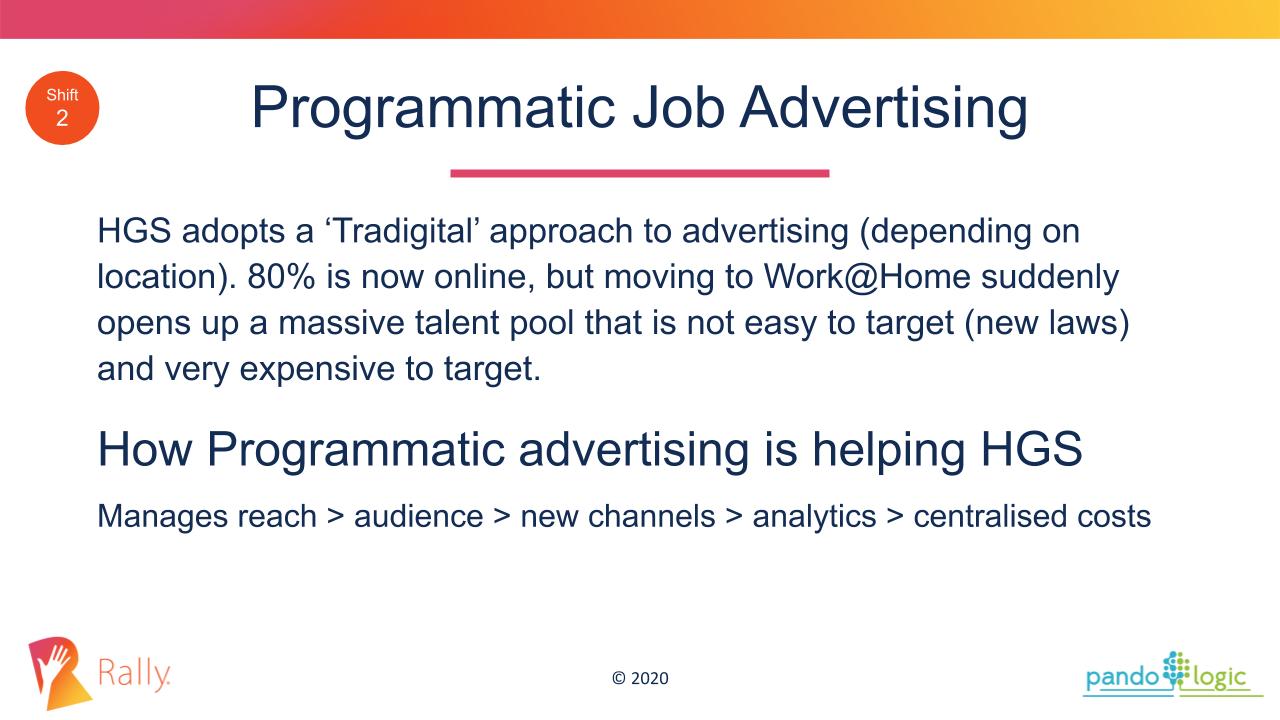 What Is Programmatic Job Advertising?
Programmatic job advertising is defined as the practice of using data, analytics, machine learning and AI to buy, place and optimize job ads. Ultimately, it automates your digital job advertising processes and works to ensure that your job ads land in front of your target candidates.
Programmatic ad technology works with a network of job boards and websites to bid on ad space on your behalf, rather than manually selecting job boards, the technology puts your jobs in front of your target candidates for you, based on what channels are delivering the best results. Programmatic tech helps control the cost of advertising by automating and optimizing the bidding process to meet an employer's unique recruiting goals.
Why We Use Programmatic To Attract A High Volume Of Remote Candidates
Our team at HGS hires thousands of people annually for our entry-level call center jobs. Prior to the COVID-19 pandemic, our team mostly hired people in Jacksonville, Florida, El Paso, Texas and Peoria, Illinois. But, when the pandemic hit, our centers closed to ensure our employees' health and safety. While our team still needs to hire for a high volume of roles — in fact, our hiring volume has increased this year — we're no longer limited to those 3 locations.
Prior to the pandemic, our recruitment strategies were relatively traditional. We relied on job boards, billboards and radio ads in the cities we hired in. While we had started to dabble in a digital marketing strategy to attract remote workers in Canada, with our offices closing down due to the pandemic we knew it was time to accelerate our shift to digital job advertising to attract candidates from across North America.
To meet our new requirements, we began working with PandoLogic, a programmatic job advertising platform, to help get our job ads in front of the right candidates across the U.S. and Canada. Based on what we've learned so far, here are a few reasons why adding programmatic to our strategy has been a game-changer, and why you might consider adding it to yours!
How Programmatic Helps Us Optimize Our Recruiting Budget
One of the challenges of recruiting the Work Anywhere Workforce is that you don't know all of the places where talent will come from. And if your talent pool has increased, your advertising costs are also likely to increase yet you're probably living with significant budget constraints right now. So leveraging technology like programmatic job advertising is critical to stretching the budget you do have further, in order to get in front of great talent wherever they're spending time online.
Programmatic job advertising platforms help you manage costs by using predictive data and intelligent algorithms to automatically manage your spending. The tech optimizes the delivery of your job ads based on the cost per click rates per job and per site across all your open jobs to get the best ROI. Platforms like PandoLogic can help you see your performance in real-time so that you can make better decisions, which has been a real plus for us this year when our hiring needed to surge to meet our customers' needs.
Pro tip: Before implementing a programmatic tool, it's important to know your current state. Get familiar with your job ad metrics like:
cost per apply
cost per source
hire per source
quality of source
conversion rates in your recruiting funnel
This will provide a benchmark to measure against once you go digital. When you know your baselines, you can then measure the results of your programmatic job advertising platform better and understand if your new digital marketing strategies are working.
How Programmatic Helps Us Manage Our Job Postings
As you can imagine, managing job postings for thousands of hires annually can be a challenge. Now imagine that stretched over 50 states, 10 provinces and 3 territories across the U.S. and Canada! There's no way that our small team had the bandwidth to manage job posting ads manually when we needed to expand our reach to attract remote workers. Programmatic takes the manual component away though, freeing up a lot of extra time for our team to focus on other activities. We've also been able to A/B test our ads to find the right messages that resonate with our target candidate personas.
With some of the time that we've gained back, our team has been able to focus on other Recruitment Marketing strategies, like engaging with talent through our social media channels, creating virtual job previews, responding to employee reviews and improving our reputation as an employer.
Overall, using a programmatic job advertising platform has been a game-changer for our recruitment strategy this year. It's enabled us to surge our hiring but without breaking our recruiting budget. Since the software automatically delivers our ads through the most effective online channels, we know that we're getting in front of the right remote candidates, no matter where they're located, in the most cost-effective way. And as we continue to face rapid changes that impact the way we hire, and the way that candidates look for jobs, tools like this can help to make sure that we're ready for whatever the future throws our way.