As if there weren't enough social media options to think about, along comes the sleeper hit, Snapchat. It's nothing like Facebook or even Twitter, and definitely not like the business-attire-only LinkedIn. Snapchat is all about bite-size storytelling that boosts your employer brand.
Snapchat is informal, and that's the whole point. With a younger candidate pool, informal can equal authentic. And authenticity means everything. Here's how you can painlessly add this social media venue to your recruitment strategy and get results.
#1: Use a Storytelling Angle to Promote Company Culture
Snapchat isn't like any other social media outlet. It can either be a series of random images, or those images can tell your company story. The former is typically what happens when you're not really sure what to do with the technology. But there's a method to the madness. The latter happens once you know what Snapchat can and can't do for recruiting.
Recruiting Social recently ran a story on several different companies that regularly use Snapchat. And one resounding theme is that with this social media venue, strategy is focused on promoting company culture. That's it, and that's all. Metrics are very limited, so you won't get a wealth of data. Have fun with it. That's what it's for.
#2: Make the Content Great
By design, Snapchat is highly visual. Images and videos matter. Great ones tell your story, but great doesn't have to equal pro-quality. The important thing is the subject matter, not photography or videography skills. The whole point is to engage followers with an almost voyeuristic look into what it's like to work for your company.
Engagement isn't measured the way that it is on other social media outlets, so creativity it vital. One of the few indicators of great content and good engagement is the completion rate. When a follower finds your story and also sees the end of the story, that's completion. Great content keeps people engaged, which improves completion.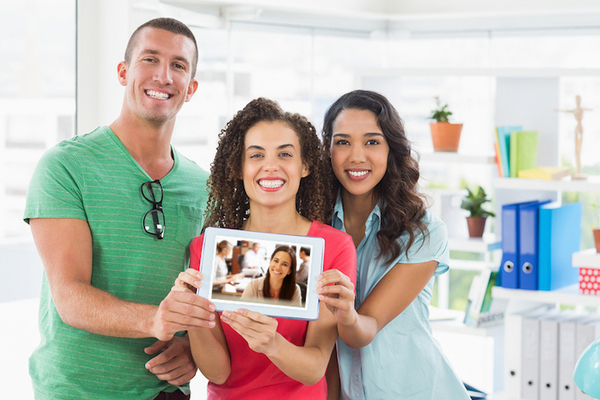 When employees tell the story, candidates can relate.
#3: Give Employees Plenty of Freedom
One thing that every company interviewed by Recruiting Social agreed on is giving employees freedom to use Snapchat. "As a social media manager, that's a pretty scary thing to do," said Cisco social media lead, Carmen Shirkey Collins. "We roll new people into the group every few weeks in order to ensure the account is fresh and new."
The employee story is what job candidates are interested in on Snapchat. VaynerMedia chief heart officer, Claude Silver, said: "Our followers get to ask questions and get answers from our team about their day-to-day responsibilities – and how to land a job at VaynerMedia." It's one of the closest experiences that candidates have to auditing the company the way they'd audit a college class to see if it fits.
#4: Find Snapchat Analytics Software that Works for You
Snapchat offers precious little in the way of data on its own. But there is a handful of companies out there breaking it down and making a more sense of it. For example, Snapalytics gives the completion rate, tap-through rate and best time to post.
Through the limited analytics, you'll find what works with your target audience and what doesn't. It's simple and straightforward, but that's the whole point. Snapchat isn't supposed to look or feel sophisticated because sophisticated can often feel contrived. When you're promoting company culture, you want candidates to see the real you.
Social media turned recruiting on its ear, and there doesn't seem to be an end to it. There was a time when the whole process was staged, polished, and honed to perfection. The Powers that Be curated an employer image, but oftentimes it didn't reflect reality. That's old fashioned and outdated now.
Authenticity is a brand builder that matters now. That's what Snapchat offers. Even better, it's practically plug-and-play with a minimal learning curve.
Are you looking for better ways to make your recruitment strategy perform at a higher level? That's what RealMatch is all about.