If your mobile job application completion rate leaves a lot to be desired, there are probably several reasons why. Mobile has moved far beyond the outlier status that it had just a few years ago. Because of that, the whole process needs an overhaul.
Whether or not employers like it, job seekers are in the driver's seat. There is too much competition elsewhere that offers what they want. Instead of fussing over an application that's clunky or difficult to navigate, they'll simply back out of the process and go elsewhere. Here are 4 common mobile mistakes and how employers can turn them around.
#1: Old-Fashioned Wordy Applications
Oh, look. There's another page. And another. Prospective employees must like filling out forms so much that they'd do it in their spare time. Don't be that employer. No one likes to fill out forms, especially ones that never seem to end, and especially not on a tiny screen. Make it clean and concise, and you'll increase your completion rate.
Reevaluate your application. If it's too lengthy, applicants will drop off. And Recruiting Brief stresses that the talent you want most is more likely to drop off faster than anyone else. Considering that only about 1.5 percent of people finish an application using a mobile device, up is nearly the only direction to go. That's what ERE Media says.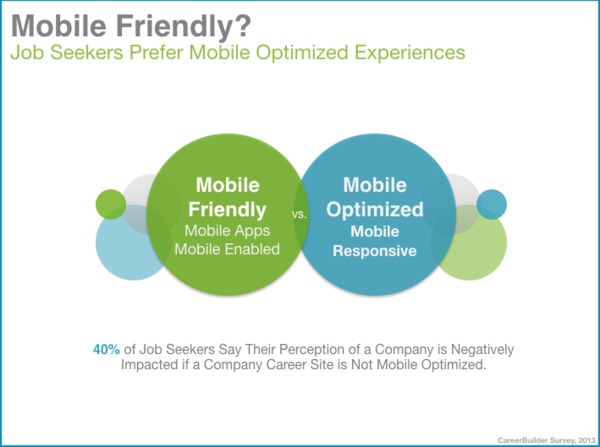 Nearly half of job seekers expect a seamless mobile job application experience.
#2: Mobile as an Option Instead of a Focus
"Conversion rates for job seekers viewing your site from a mobile device are even worse than from a desktop," says Recruiting Brief. But on the upper end, desktop still only encourages about 9 percent of applicants to finish. Whether a small screen on a smartphone or tablet makes an application seem even longer than it already is or if applicants are in a hurry, the numbers show that completed mobile applications are very rare, indeed.
That's a terrible realization considering that most job seekers use mobile when looking for work. Mobile can't be a secondary option or an afterthought. You need a mobile-friendly job site and integration with sites such as LinkedIn and IndeedApply. But perhaps more important than anything else, applicants need the ability to upload a resume from GoogleDrive or Dropbox using mobile.
#3: Asking Too Much Too Soon
How important is it to obtain mother's maiden name, college GPA and references with the application? Probably not important at all. But that's the traditional approach, and many employers still try to fit tradition into a new box. Square peg, round hole.
There is ample time to ask for more details later on. Think like a mobile user. Skip essay questions, and opt for multiple choice. Look at the application as screening, not the be-all, end-all. Get them in the door first; ask more questions later.
#4: One-Size-Fits-All Applications
There was a time when employers had one application form and kept lots of copies in a filing cabinet. Every applicant for every job filled out the same form. But that's not very efficient, and it can turn off some job seekers. Upfront screening gives applicants a more customized process, and that helps your side of the search, as well.
For example, Recruiting Brief says questions about willingness to work overtime aren't important if the job never requires overtime. And they add unnecessary steps to the application. Some positions might need a special field for uploading a portfolio or transcript. Asking the right questions right away gives the applicant relevant questions and omits any that aren't. That gives each user their best possible application.
The importance of mobile can't be stressed enough. Job applicants don't merely want mobile as an option. They need it, and they need it to function as smoothly as glass. It's outpacing the desktop job search to a larger degree every year and no one expects that to change.
Job seekers have lots of options, so your mobile application process can't afford to lag behind. Subscribe to Recruitment ADvisor today and find out how to become more competitive.