About three decades ago, freelancers and independent contractors made up only a small fraction of the American workforce. While the Bureau of Labor Statistics struggles to count precisely how many Americans work in what's called the "gig economy," a 2017 study by global freelancing platform, Upwork estimates that currently, 57.3 Americans engage in some kind of freelance work (~17% of the workforce). Perhaps most surprisingly, the research also indicates that about 47% of millennial workers are independent contractors.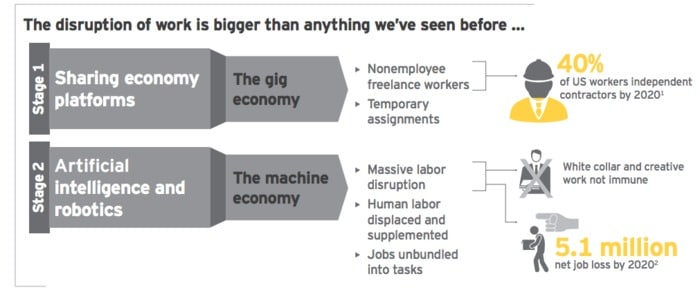 A recent EY Future of Work study tells us that by 2020, up to 40% of people working in our country will be gig workers and that AI and robotics will define the next wave of disruption. This article explores the growing ranks of enterprising freelancers, consultants, and "solopreneurs" currently active in the U.S. workforce and how they will affect talent acquisition in 2018 and beyond. We will also delve into the historical, economic, generational, and cultural factors driving the changing expectations of both workers and employers. Further, we will put forth some best practices for how employers, recruiters, and others in the talent industry can engage gig workers in meaningful ways to create a robust talent pipeline and source the best people for their organizations.
The Role of the Recession
Since 2008, the landscape of American Business has changed dramatically. An unprecedented downturn in wages paralyzed many workers and left business leaders scrambling to keep their organizations up and running while keeping purse strings tight. According to a study conducted by professional staffing services provider, Addison Group, this made hiring managers more willing to bring temp contractors onboard to support their businesses without the financial burden of paying a full salary and benefits on their already strained operating budgets.
Ethical and Compliance Considerations
Fast forward to 2018, and while the economy has continued to heal from its low point a decade ago, organizations are continuing to reap the benefits of utilizing freelancers, contractors, and independent consultants on their teams. Now, companies are contracting with on-demand workers not so much out of necessity but also for the bottom-line benefits they provide.
In an April 2017 post by The Compliance & Ethics Blog, there is concern expressed about how fair the continued meteoric rise of freelance culture is for workers. Indeed, the obligations and responsibilities of both the contractor and the organization can become blurry. Situations sometimes arise that leave the former in a precarious position that may even result in expensive and stressful litigation — such as being misclassified as an independent contractor or having a client refuse to pay the agreed-upon fees for services rendered.
Considering this, neither freelancers nor those who work with them should ever operate on a "handshake" agreement. Ironclad work contracts are becoming increasingly crucial to maintaining healthy relationships and effective workplace practices.
Pros and Cons of the Gig Economy to Employers
Despite a few potential pitfalls, the gig economy can be a massive boon to forward-thinking organizations looking to diversify their talent pool and save costs. While the gig economy is here to stay, like all emerging trends, it has its ups and downs.
Let's explore some of the pros for businesses considering enacting more temporary and contingent work arrangements according to Business News Daily.
Pros:
Lower overhead costs compared to retaining full-time employees: office space, salary and benefits, covering expenses, etc.
Diversifying the talent pool: engaging with multiple, specialized freelancers and subject matter experts as you need them
Stretching the capabilities of time: having contractors in various time zones to cover numerous shifts, service geographically-spread clients, and react to issues (server outages, customer queries, etc.) immediately
Scaling with agility: being able to scale-up, or down quickly as your business grows or shrinks
Cons:
Inconsistent work: with workers being far-flung, there may be less accountability, especially if they are engaging in other projects for other clients.
Lack of loyalty: they are not full-time employees, they have other engagements of which employers need to be cognizant
Initial risk: building trust takes time, freelancers are expected to work independently with minimal hand-holding, you don't know if they are up to that task until you try
Who's Driving the Gig Economy Now
Now that we've discussed the historical and economic underpinnings of the gig economy, as well as how employers are benefiting from it, let's now explore why many workers are engaging in it as well as how technology is continuing to wield influence.
In the past, most working people wanted stability; a meaningful place to go during the day, a steady paycheck, and a sense of pride for providing for one's family. What drives workers today is different. This blog, written by the millennial-focused professional online community, Levo (in partnership with Adecco) dives into what it means to be a self-employed young person. It turns out that the gig economy, as well as a preponderance of "side-hustles" in younger professionals' careers, is what is defining today's freelancing economy as much as anything else. For millennials and Gen Y'ers, independent contracting isn't just a means to earn a living, it's a lifestyle that many are embracing with passion and enthusiasm.
Here are a few reasons why millennials are drawn to the gig economy:
According to Business Insider, slow growth in the economy and competition with older, more experienced workers in senior roles is driving independent contracting.
Many respondents to the Levo Insititute's and Adecco's "Millennial Economy Report", many cite freedom, flexibility, and personal fulfillment as driving motivators
Freelancing makes the dream of entrepreneurship more accessible to young people. According to Brian Scudamore, CEO of O2E Brands, starting as an independent contractor may give millennials a foothold to start a business.
But it's not just millennials who are drawn in by the siren's song of freedom, flexibility, and entrepreneurial dreams. Baby boomers are getting in on it too, as more Americans in midlife and beyond are seeing the gig economy as an option to keep their income streams robust as they enter retirement or partial retirement. Lower-wage gigs like driving Uber are popular means for older people to freelance. But there is no doubt that many baby boomers will find opportunities in contract work and consulting later on in their careers — allowing them to share their years of expertise with organizations in unique ways without the burden and added obligations of being a full-time employee.
Additionally, being able to step back from full-time work while engaging in knowledge-sharing and consulting, can help older workers maintain a connection to their career accomplishments and engage in professional generativity through consulting and mentorship of younger workers.
Engaging Consultants and Gig Workers
Having touched upon the motivations for both employers and workers to take part in the freelance economy, let's discuss how businesses can determine how best to proceed with engaging with contractors. Leading companies are already reaping the benefits of hiring 1099'ers. Regardless of your industry or budget, there's no reason that organizations of all sizes, levels, and industries cannot do the same and maximize the results of their talent management strategy.
According to SmashFly Blog, here are a few things to keep in mind:
Many organizations are focusing on employer branding, but few are leveraging it in a way that goes beyond the needs of 9-5-ers and authentically speaks to enterprising freelancers from diverse backgrounds, age ranges, and geographic regions. Remember that above all, most freelancers value autonomy and flexibility over menial perks. As impressive as your on-site, fully-stocked kitchen is, redirect your branding efforts to focus more on intangibles like culture and values that make your company a great place to work
Give your brand personality and avoid coming off like a generic corporation. Make sure you're "walking the walk" and not just "talking the talk" — focus on building your employee advocacy in ways that also include contractors and other inside-outside workers. Share their personal stories and experiences, include video content, and always be thinking of ways you can add personality and flair to both your recruiting and retention efforts.
Tying it Together
To most effectively engage with freelance talent, what's needed are specific strategies and platforms to address this emerging workstream. Technology and automation will be key players as the gig economy evolves and recruiters look to improve their talent brands.
Want to stay agile in a tight market and embrace the freelance talent model today? Subscribe to Recruitment ADvisor for real-time solutions to your most pressing recruiting pain points.