Even though television is still the most popular medium for media advertisers, the gap between TV and digital ad spending is now at its lowest of 9%, according to the latest quarterly survey results conducted by STRATA.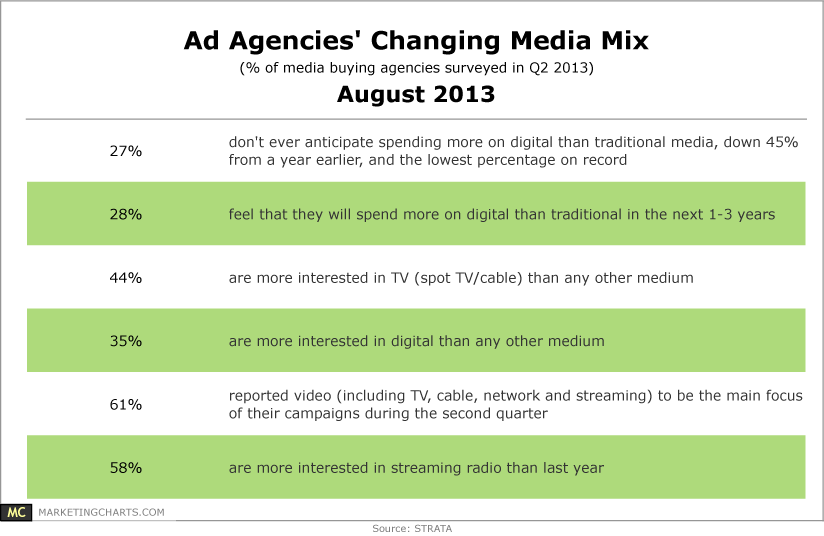 With last year's survey numbers showing the TV/Digital gap at 24% (STRATA Q4 2012), the race for advertising dollars has become neck and neck in just a few short months.
As online and social media sites become more ingrained in day to day life, it's no surprise that online digital ad spending continues to increase in a similar trajectory. Digital ad spending has shown a growth increase of 16% from last year and ranks second with 35% popularity as the preferred medium – the highest level of interest during the survey's five year history.
"It is no surprise that digital has become an integral component for many advertising campaigns. Now, the only question that remains is how close the interest in TV and digital advertising will become in the future," said John Shelton, President and CEO of STRATA.
As a result of digital's increased popularity, only 44% of respondents identified TV as their medium of choice – marking TV's lowest score in three years. With this in mind, media advertisers are already strategizing to expand their efforts to the digital space. 28% of respondents specified they will spend more on digital advertising than traditional media in the next 1-3 years.
Other surprising sources continue to gain more ground in today's evolving media mix, such as 66% of advertisers indicating more interest in online video compared to last year. YouTube ranked highest among online video sites at 69%, with Hulu as the runner-up at 35%, and Netflix and Vine tied for third at 14%. This opens up several opportunities for TV broadcasters with online video streams and programming. Streaming/ online radio also sparked a significant amount of interest with 58% of media agencies saying they are more interested in it than a year ago. Traditional radio however, did not follow the same pattern with 86% of media buyers saying their clients were interested at the same level or less than a year ago, representing the lowest rate of interest for radio seen in 19 quarters.
All signs seem to point to digital, as online advertising continues to close the gap between digital ad spending and traditional TV spots. Overall, media execs report a healthy outlook for advertising with an increase in 2013 business compared to last year.