"You can't pick your data, but you must pick your metrics." – Jeff Bladt, Harvard Business Review
Be careful about getting so caught up in data that you lose sight of the talent acquisition goal: great hires. Data is what your metrics are made of; it's not the metrics, themselves. The difference is comprehensive information versus information that you need. And that's what drives a great hiring strategy.
Think about a batch of Google search results. You probably click on only one or two that most closely fit what you're looking for. It's the same with data and metrics. Just because there is a deep pool of information at your disposal doesn't mean that you need it. You might only need a cupful, at least if it's the right cup.
What matters is finding the metrics that help you improve important areas of business. Hire Expectations Institute™ says over half of their surveyed talent pros said they plan to improve metrics tracking and reporting in the coming year. And here are some that we'll be watching.
Productivity Metrics: Which Elements Work Best?
Where are your talent acquisition strategy's strong points and where are the weak ones? Metrics that deal with productivity show what's working and what isn't.
Are you getting more applications from some job boards than others? Those are productive sources. Drilling down a little more, which of your sources gives you the most hires? Now compare the two and find which productive source also leads to more hires.
Productivity isn't the be-all, end-all metric of talent acquisition. But it shows where activity is booming, which is a good start.
Don't forget to account for productivity buster metrics, says Jibe. A prolific source is only half as good if half of the candidates fail to move ahead.
Time Metrics: Because Time Really is Money
Time metrics are on everyone's mind. Time to apply, time to offer, time to accept and time to fill. You're probably tracking those metrics already.
But what about time to productivity? A candidate who takes longer to move from new hire to productive team member costs the company money.
If some candidates take a longer than average time to productivity, you might trace the problem back another metric. For example, one job board might have a history of sending not only lots of applicants but more who get up to speed quickly.
Time is money in every business. The longer it takes to move from placing the job ad to full employee productivity, the more the new hire costs.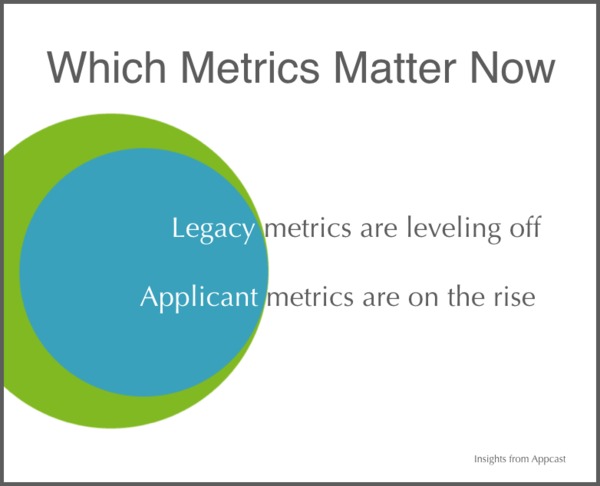 Appcast says 2017 is the year when applicant-centric metrics will come into their own as legacy metrics like CPC and CPH level off.
Quality Metrics: For Every Aspect of Talent Acquisition
Quality is where you learn more about how well your strategies work. Because what looks great on the surface might only be mediocre in the long run.
Take, for example, the prolific job board that sends you lots of applicants who follow through and become new hires. Those initial performance results will be tempered by the quality of hire.
Maybe one job board gets a lot of traffic. But maybe the hiring manager only approves a fraction of the candidates. The good news is that when you analyze those findings, you can make fine-tuned adjustments that get more candidates that suit the hiring manager's needs.
Productivity is improved or reduced by how well your expectations match those of the person who makes the hire. Quality goes through the surface performance indicators to find the real heart of the matter.
Cost Metrics: Where Does Your Budget Go?
The Cost to Acquire metric is perhaps the most multifaceted one. It's not something that you can pull a report to find. This metric takes work.
Costs come from many directions. You might never have a full grasp on every cost involved with hiring. But for every dollar spent, you can spot efficiencies and inefficiencies.
There's the cost of recruitment advertising and the cost of operating a job portal. Some marketing opportunities, such as social media, is free. But a free opportunity takes time, which cost money. Even writing a job ad could be considered a factor in the cost to acquire.
Some of the technology available to recruiters helps stretch the budget. Recruitment advertising is a major one that's on its way up. It produces better results in less time, since ad placement is automated, and it could reduce your cost to acquire.
All data represents an element of your work. Within that data are metrics that you can track and study. And each metric is inextricably tied to the others, at least to some degree. That's what makes this information such a valuable tool.
Over the past several years, the focus on data has gradually shifted to metrics. Data is everywhere. But most of it is information without any real use. Metrics are another story. They peel away what's unnecessary to reveal the vital framework of your talent acquisition processes. And that helps you focus time, energy and budget more efficiently.
Programmatic advertising capitalizes on Big Data and the metrics that matter to you. Learn more about this efficient and effective way of the future through our webinar: The Emergence & Impact of Programmatic Advertising on Recruiting.